Where Can You Buy Protective Safety Masks for the Coronavirus? And Do They Work?
Where Can You Buy Protective Safety Masks for the Coronavirus? And Do They Work?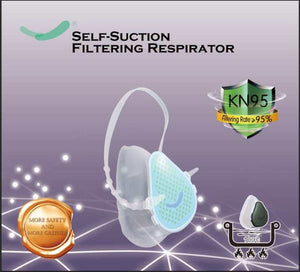 Where Can You Buy Protective Safety Masks for the Coronavirus? And Do They Work? 0
Where Can You Buy Protective Safety Masks for the Coronavirus? And Do They Work?
The Wuhan coronavirus has dominated the news cycle recently as infections have spread across every region in China as well as every continent across the globe. As of March 5th, the United States had more than 150 confirmed cases, many of which were returning citizens from the Diamond Princess cruise ship, and 12 deaths. Worldwide there are now 93,090 cases in countries spanning the globe from Italy to South Korea to North Africa, and nearly 3,000 deaths, many of which have still only occurred in China. People all over the world are buying face masks to prevent infection from this airborne disease. And as a result, 3M safety masks, surgical masks and N95 masks are sold out in many stores; they're even hard to find online.
If you want to find out where to buy coronavirus safety masks, keep scrolling to find face masks that are still available for purchase online. Below, you'll find more information on this virus and what kind of protection face masks do and do not provide.
Will a Face Mask Protect You Against the Deadly Coronavirus?
The reviews are mixed, but probably not, at least not completely. Don't worry though — as of now, the U.S. Centers for Disease Control Prevention does not recommend wearing face masks in the United States. The Mayo Clinic has not recommended them for the average person as the risk of infection remains very low with few cases of human-to-human transmission thus far.
In terms of face masks' utility, the advice varies slightly depending on the source, but the resounding conclusion is that wearing a mask won't do a whole lot to protect you. For instance, surgeons wear masks to keep their germs from infecting their patients, but the protection doesn't work the other way around. A patient with an airborne disease could infect a physician wearing a safety mask.
Why Are Face Masks So Popular Right Now?
You might be wondering: if safety masks aren't all that helpful in preventing infection, then why does every news article feature images of protective masks being worn in public?
Safety masks are a ubiquitous sight in many Asian countries where it's customary for sick individuals to wear them to protect others, and healthy people use them generally for peace of mind to ward off infection. The trend dates back to the roots of East Asian culture and Taoist beliefs surrounding "Qi" or life force. In order to protect your most sacred resource, you must avoid breathing in toxic or diseased air at all costs. Additionally, many young Asian people wear them today paired with headphones to ward off unwanted communication with others, rather than infection. Even outside of an endemic disease outbreak like the coronavirus, masks are very common in that part of the world.
In response to the outbreak, the government in the city of Wuhan ordered its citizens to wear masks in public to prevent the spread of the infection. Now, face masks are sold out at many online and in-person retailers in the United States as people rush to protect themselves in any way that they can. The truth is, your efforts are better spent elsewhere.
What Do Experts Recommend Instead?
Medical professionals are urging individuals to take precautions against the seasonal flu, a much higher risk to the public currently than the novel coronavirus. To put things in perspective, so far there have been 150 confirmed cases of the virus in the US and 12 deaths. The flu this season has infected 15 million people and caused 8,200 deaths.
Thankfully, protection against the flu is pretty straightforward. Get your flu shot if you can. Wash your hands regularly, sanitize surfaces, sleep well and reduce stress. Your immune system is by and large your best protector against anything and everything.
If you're interested in buying a safety mask to protect you from the coronavirus, there are some still available and there's no harm in wearing them. They can definitely provide some peace of mind. For the best protection, you'll want to find masks with an N95 rating. But where can you buy coronavirus safety masks now that most retailers are completely sold out?
Below, you'll find a range of protective face masks including simple surgical masks, 3M N95 respirators masks, cotton dust masks and carbon filter face masks. Unfortunately, many coronavirus safety masks are very low in stock or sold out at online retailers like Amazon, Home Depot and Lowes. We will update these listings when new products become available, but right now there is extremely limited stock available.
3M Protective Face Mask (Sold Out – Amazon)
This protective mask from 3M will cover your nose and mouth, filtering out particulates in the air as you breathe. It's a mask designed to make breathing easier while still providing protection. There's only a few left in stock on Amazon right now, so pick up your 20-pack as soon as you can if you're still in the market for a protective, easy-to-use face mask.
3M N95 Respirator Mask With Cool Flow Valve (Sold Out – Amazon)
This is also a NIOSH-approved N95 respirator mask designed to filter out 95% of toxic airborne chemicals and is equipped with a cooling valve to resist heat build-up during hours of wear. It's lightweight and has adjustable straps for optimal fitting. Breathe 30% easier than other models and rest assured knowing you're protected.
3M N95 Respirator Masks (Low Stock – LOWES)
If you work in an airport, medical office or will be traveling soon and want a mask, then the N95 respirator is the recommendation from medical experts in terms of protection. The N95 respirator filters out 95% of airborne particles when used correctly. There are a variety of such masks available for construction work, and they can be used for a variety of purposes.
Most N95 masks from the popular 3M brand are sold out, but there are a few masks in stock.
3M Cool Flow N95 Respirator Masks (Sold Out – LOWES)
This mask from popular brand 3M is designed to avoid overheating. Designed originally for contractors working with fiberglass and sandblasting, it can be used for a variety of purposes.
Washable Cotton Dust Mask (Amazon)
If you're looking for something similar to cover your face in crowded public places, then a simple cotton mask is a popular option. This adjustable cotton face mask has straps that loop around your ears to keep it in place. Simple cotton masks lack the N95 and N99 anti-pollution capabilities of other masks, but they do provide coverage for your mouth and nose in public spaces. Because it is made from cotton, this mask is also washable. It's recommended that you wash it one or two times a week, depending on how much you're wearing it.
M2 Mesh Dust/Pollution Carbon Filter Mask (Amazon)
To protect themselves from the coronavirus, many people are buying safety masks and respirators from the manufacturer 3M. Specifically, many people are searching for NIOSH-approved N95 respirator masks, which filter out particulates and toxins for contractors. While there's no guarantee these masks can prevent infection, they also aren't the only popular option. This protective face mask has two replaceable carbon filters that filter the air you breathe. Typically, these masks are used to protect wearers from smog and pollution, not viruses. This mask is compatible with replaceable carbon filters. Better yet, it's available via Amazon Prime.
M2 Mesh Dust/Pollution Carbon Filter Mask (Amazon)
This product contains 50 sealed surgical masks, which are held in place with two rubber loops. Each surgical mask has three layers of non-woven fabric to provide filtration while you breathe and talk.
Face Mask with Earloops (50-Pack) (Amazon)
This pollution and dust face mask from RZ Mask contains a replaceable active carbon filter. The adjustable nose clip helps the mask comfortably fit your face, while a Velcro strap securely attaches behind the head. The lime green color provides high visibility for commuters.